Rosco DMG Lion - Powerfull Fresnel Light
DMG LION strikes the perfect balance between strength and beauty. This powerful, 13-inch, all-weather Fresnel utilizes cutting-edge technology to replicate the look and feel of a classic tungsten Fresnel – but with the versatility that LED technology provides.
Rosco DMG LION is a new, powerful LED fresnel light prototype presented at Cine Gear 2023. Featuring a large body with a built-in power supply, swappable LED engines (bi-color or full-color), motorized flood to spot between 70° and 15°, and an M18 accessory mount, the light should be available early next year.
The DMG LION is a prototype fixture with a large 13-inch fresnel lens with a rather large, weather-sealed body. The size is due to all the components, including the power supply, being in the light's head. The final weight of the light will be between 55 and 60 lbs (25-27 kg).
The module's movement is internal, and the light's "zooming" function between 70° (flood) to 15° (spot) is internal and motorized so it can be wirelessly controlled – for example via DMX or Rosco's myMIX app.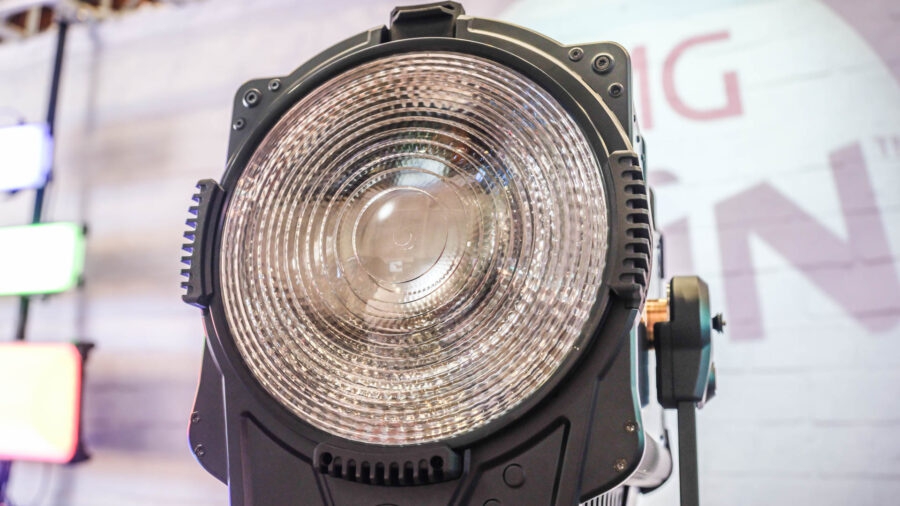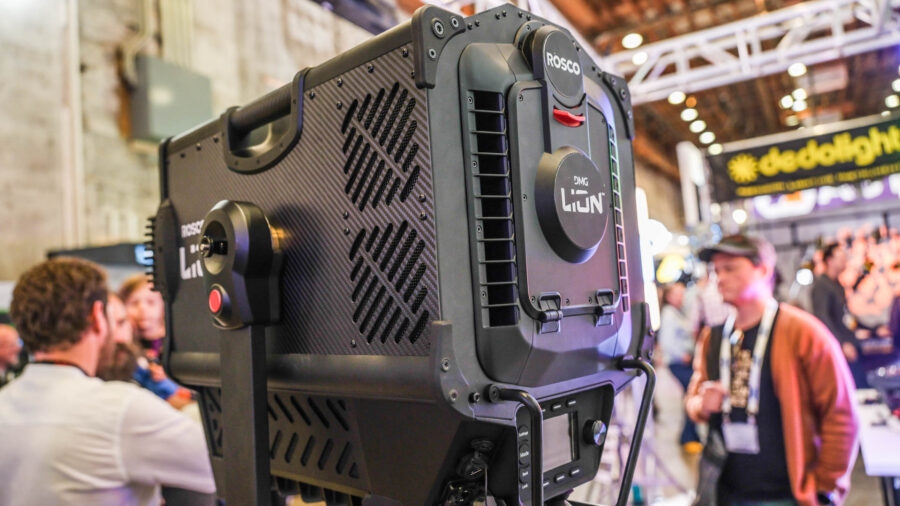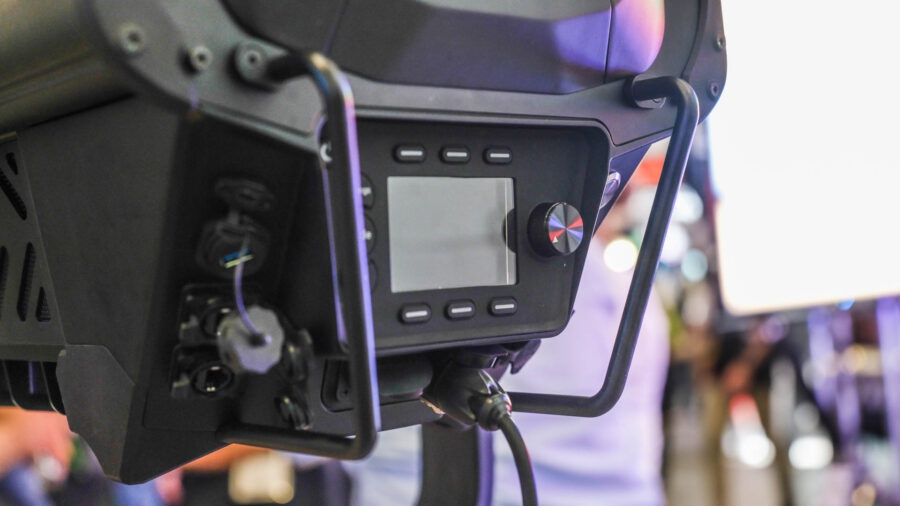 The lamp has another cool feature: the ability to swap the LED engine. This means that the LED emitter unit in the light can be removed via the opening at the back of the lamp and replaced with a different one. Rosco claims this offers two main benefits:
The light becomes future-proof because you can replace the unit with a newer, more efficient one as new LED technology becomes available in the coming years.
Using different types of LED engines. At the launch, Rosco will offer two different LED engines for the DMG LION:
Bi-color LED engine (2700-6500K) for maximal output – roughly equivalent to a 5K tungsten fresnel.
Full spectrum LED engine with RGBLAW emitters for full-color flexibility with Mix technology (roughly half the output of the Bi-color engine).
In terms of connectivity, the DMG LION has both built-in Wi-Fi and Bluetooth. On top of the back panel on the light itself, the Rosco DMG LION can be controlled via DMX or Rosco myMIXapp. Additionally, there are RJ45 ports (in and out), XLR 5-pin (in and out), and Lumen radio.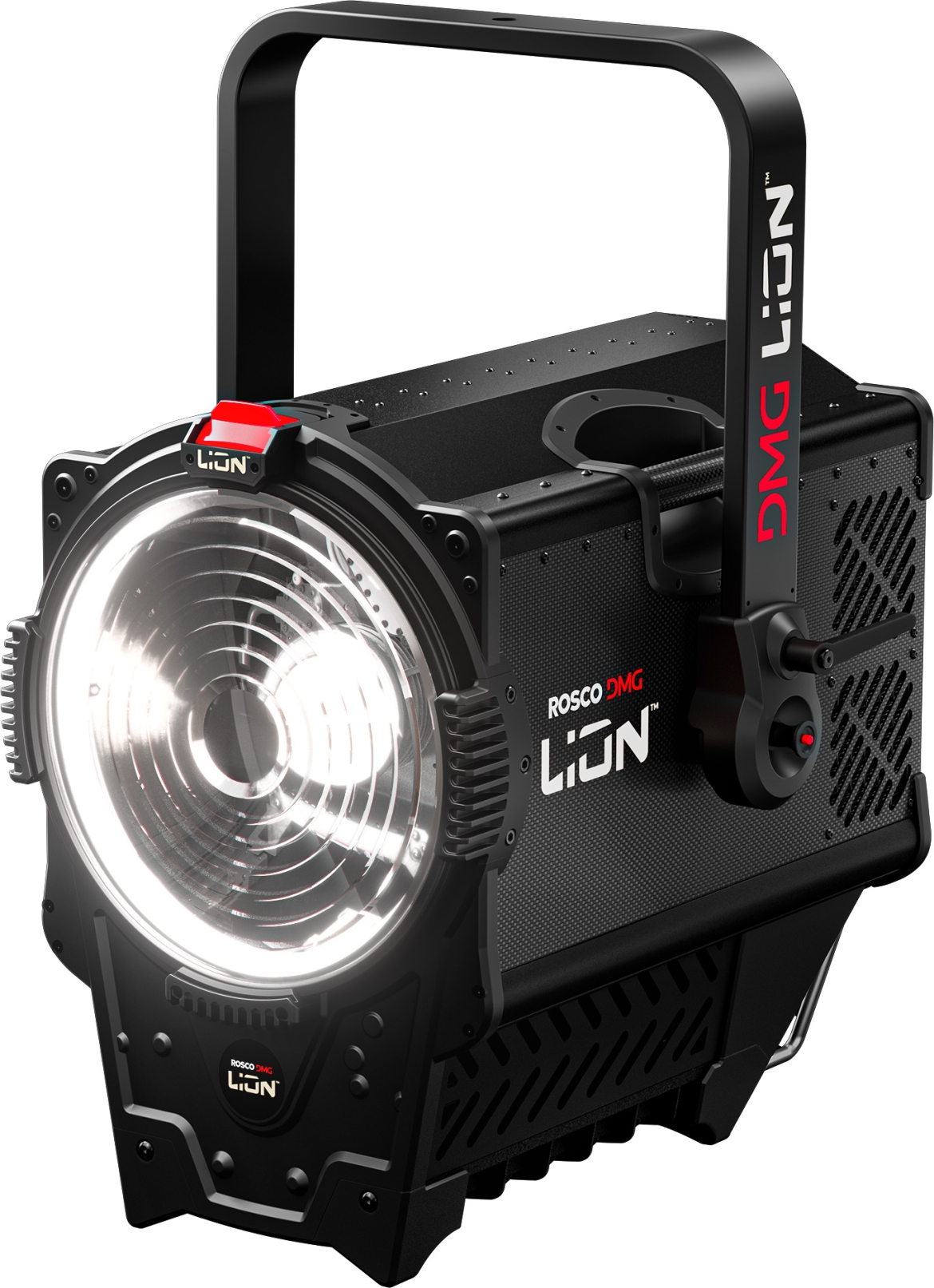 A big advantage is that the front of the fresnel light will feature the M18 accessory mount (ARRI standard), so all the existing M18 accessories will be compatible with the DMG LION. Power consumption will be up to 1500W so the light will work on the standard 15A outlet.