Feature-packed Fixture Firmware v1.2.0
De nieuwste release van firmware v1.2.0 is beschikbaar voor alle fos/4 Panels, fos/4 Fresnels, Source Four LED Series 3 en Desire Fresnel-armaturen. Naast het verenigen van de functieset over de productlijnen, bevat deze update ook veel van de functieverzoeken die ETC het afgelopen jaar heeft ontvangen.
De nieuwe functies omvatten:
Gel-modus
Nieuwe standalone gel-modus geeft toegang tot een selectie van gel-modi, evenals het kiezen van de basis-CCT.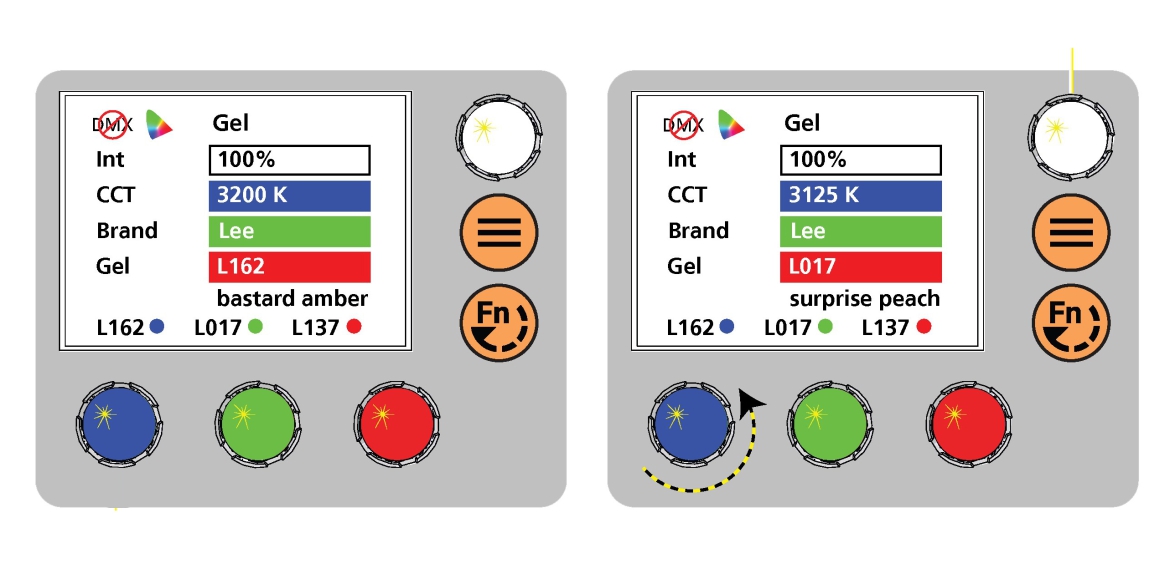 Effects DMX mode
New DMX footprint that allows for remote control of the built-in effects (fos/4 products only. Series 3 and Desire keep their built-in Sequence control.)
Cell DMX modes (fos/4 Panel only)
Gives independent control of the left and right halves of the fos/4 Panels – available in Direct, Expanded and Studio modes.
1/4-stop intensity control in stand-alone Studio mode
Metamer control in stand-alone Studio mode
First available in Source Four LED Series 3 but now added to the rest of the lineup, this addition to the Tune function adjusts the metamer being used to mix the chosen color point, all from the back of the fixture.
x,y color mode
In stand-alone Color mode, you can change between Hue/Sat and x,y color modes as needed.

PWM parameter
Adding frequency control to the Local Settings screen to adjust PWM rates for improved low-end dimming performance or flicker-free output perfect for high frame rates.

New dimming curve in High PWM mode
Improves color stability at low dimming levels.
Multiverse enhancements
Improvements to the Multiverse® system, including wireless strength and quality display on the fixture.
De firmware is te vinden via Updaterator en op de productpagina's (fos/4 Panels, fos/4 Fresnels, Source Four LED Series 3, Desire Fresnel), samen met Release-opmerkingen en bijgewerkte gebruikershandleidingen.