De GigaJet20 Pro is eindelijk beschikbaar
20-port rack mounted DMX-Ethernet node met fibre optic link, gigabit switch en media converter.
Iedere afstand, ieder protocol
DeGigaJet20 is zonder beperkingen ontworpen voor die gevallen waar de afstand tussen transmitter (e.g. FOH console) en receivers op het podium of bij vaste installaties de 100 meter te boven gaat. Deze node zendt data zelfs zo ver als 10 km met fibre optic link.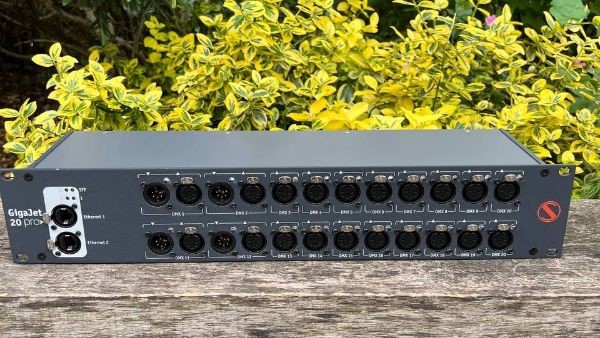 Uw DMX console is nu een starship control panel
GigaJet20 converteert mapped video content van mapping software in DMX streams en staat real-time control van video projectors en laser units die ArtNet of sACN vanuit uw DMX console toe. En ja, hij heeft ook een PoE inlet-outlet om te daisy-chainen en hij heeft ook trigger inputs om alarm scenarios te activeren.

Application
• Convert DMX512 into ArtNet and sACN protocols in both directions to transmit DMX data through Ethernet LAN and optical link for long distances up to 10,000 metres between transmitter and receiver
• Working with lighting installations when distance between FOH console and stage exceeds 100 metres
• Transmit more DMX streams with less cables
• Gigabit network switch
• Lighting control and management through single network (Ethernet + fibre)
• Convert mapped video content from mapping software into DMX streams
• Provide interfacing between modern stage lighting software and DMX lighting
• Real-time control of video projectors and laser units supporting
• ArtNet or sACN from DMX console
Key Features
• 20 DMX512 ports (XLR 5-pin, 4 paired)
• Integrated fibre optic port (SFP module)
• Gigabit network switch
• 3 Ethernet ports (EtherCON)
• PoE support
• Maximum surge protection – power supply optimized for voltage from 90 to 315 V
• Simple user-friendly web interface
• Configurable DMX port direction and parametres
• Supported network protocols: ArtNet I,II,III,4, sACN draft/release, KiNet v1,v2, RTTrPL
• Full RDM E1.20 support (controller/responder)
• Static scenes (presets) stored in non-volatile memory
• Ability to work as standalone splitter/merger
• Fastest recovery after short power failure
• PowerCON TRUE1 inlet+outlet combination
• Trigger inputs for external events and alarms
• DHCP support
• IP address conflict detection

Voor meer info check de website van Sundrax.