ROBE ProMotion™
ROBE lighting introduces ProMotion™. Elevate the visual experience to a surprising level with the ROBE ProMotion ™ with moving head effects and video projection! From tight bundle, to gobo, to logo, to stream. Project whatever you want, wherever you want, whenever you want!
Compact, stylish yet fast moving, this projector produces 1000 ANSI Lumens of creative output with its long-lasting LED source. With RGB and CMY colour mixing capability; digital gobos and graphic effects images and videos; dynamic range of in-built effects, the only limit is your creativity. The ability to upload custom artwork, photographs and videos is enhanced by the live streaming input facility from external high definition multimedia interfaces. With keystone, iris and motorised focus, you have total control of your visual creations.
Supplied with two sets of base covers, the first set is suitable for stage applications, while the second set hides control display and cables at the back of the base making it ideal for the retail and installation market. ProMotion™ can be optionally equipped with an ADM™ Automatic Distance Meter, to keep the projection absolutely sharp and focused automatically without any user alteration.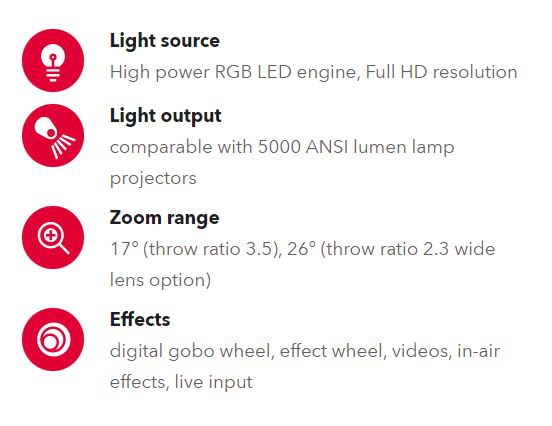 More technical specifications can be found on Robe's website.

View the interactive website of the ProMotion Spot here.