ROBE FORTE™
LED Based Moving Head TV Theatre Touring Events
Forte means Excellence, Speciality, Strength. Our FORTE™ certainly lives up to its name! Producing a blistering 50.000 lumens of high quality performance light, combined with the ability to maintain light quality from the revolutionary TRANSFERABLE ENGINE, and packed full of specialist innovation, you have the fixture ready to lead you into the future.

Harnessing the strength of the self-referencing, data capturing TE™ 1.000W White LED engine, FORTE™ has wide ranging 5-55 degree zoom capability to fulfil all your spot, wash and beam applications, contained within its class-leading sub 40 kg frame. Usual output loss at the narrow zoom setting is taken care of via our ingenious Robe Patent pending narrow zoom output boost, improving performance by over 15 %, giving you a dramatically increased output, perfect for sabre like beams.
Robe's new, cutting-edge, CMY colour mixing system provides beautifully smooth colour transitions. Combined with two colour wheels, CRI 80 and 90 filters, and a variable CTO from 3.000 - 6.700 K gives FORTE™ total colour finesse.
The comprehensive, dynamic effects package includes; two fully indexable, rotatable gobo wheels each with 6 gobos using the fast change Robe slot and lock system; two stackable 6-facet prisms, one linear, one round; animation wheel and an ultra-fast motorized iris. The two rapid insert interchangeable frosts, a soft 1° and a medium 5° for silky smooth washes cover the entire zoom range of 5-55 degrees with no restricted range cut off.
FORTE™ gives you total control via our ultra-precise patented framing shutter system, with separate blade control and the entire assembly capable of +- 60° rotation; Cpulse™ PWM control and direct Plus/Minus Green control for broadcast precision; EMS™ (Electronic Motion Stabiliser) technology, for instant stop and hysteresis elimination, making FORTE™ the ideal fixture for RoboSpot™; L3™ (Low Light Linearity) dimming producing imperceptible fades to black.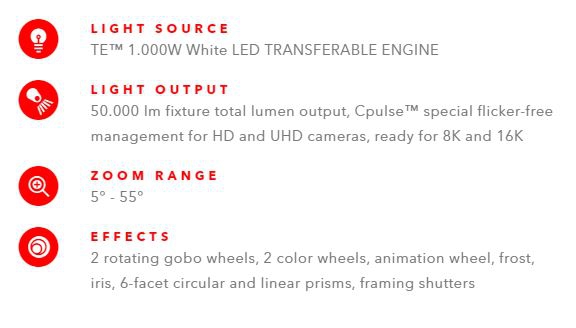 Meer technische specificaties zijn te vinden op de website van Robe.