Be A Part Of The Color Evolution
Introducing MIX from Rosco and DMG Lumière – an LED fixture that will change how filmmakers create colored light on set.
Since the dawn of colored cinema, set lighting professionals have put Rosco gels on tungsten or daylight balanced fixtures to create colored light. That time-honored process has recently shifted to color-mixing LED technology, which has its own limitations. MIX, like any fixture engineered by DMG Lumière, was designed by technicians for technicians to address the issues that set lighting crew members have voiced about the color-mixing LED fixtures they're working with today. The features of the new MIX LED technology provide superior color, easy-to-use control interfaces and other innovative solutions that enable filmmakers to create the precise color of light they want while speeding up their workflow.
True Rosco Color Inside

MIX provides the best Rosco gel matches of any color mixing LED source. Other LED lights claim to create Rosco gel matches and, in some cases, they're successful at it.There are some colors, however, that those lights just can't make – usually because they're limited by the color space of their LEDs.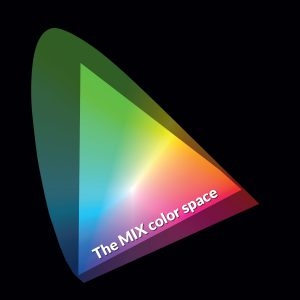 MIX features 6-LED color mixing: Red + Lime + Green + Blue + Amber + White. This enables it to generate a wider gamut of colors than RGBW or RGBA fixtures. In addition, the Red and Lime emitters in the array are manufactured exclusively for MIX – meaning that it can create colors, tones, and hues that are only available from a MIX light.
Every Rosco gel color in the MIX library has been authenticated by Rosco's color experts as a match on tungsten and daylight sources – by eye, by meter, and by camera. In addition, the MIX control software also allows you to set the base color temperature of the light before adding color. Roscolux #18 Flame, for example, looks completely different on a tungsten light than it does on a daylight source. By allowing filmmakers to select the color temperature of the MIX before selecting the color, the fixture provides more accurate gel matches to other fixtures on set.
Enhanced Lighting Workflow

The set lighting technicians at DMG Lumière know that speed is of the essence when you're on set. This was the key factor when designing the user interface for MIX. There are no menus! Simply choose between three different modes and then choose the color temperature, color or Rosco gel color you desire from there.
Gel Mode: Not only are you able to select from a vast library of Rosco gel colors, you're also able to modify the hue, saturation, and green/magenta shift of the gel color as-needed.
White Mode: Access a wide range of tunable white light from daylight to tungsten, including precise green/magenta correction.
Color Mode: Navigate through the MIX color space using the 360° hue wheel to choose a color and then set the intensity of the light output. MIX also offers the ability to desaturate colors toward several different color temperatures of white light to create different tones of the base hue.